Webmasters can make money from sex chat in many ways. There are plenty of sex chat affiliate programs we have listed below, and you'll earn a percentage or pay per sign up from any of them when you send traffic to them. You can also earn money by signing up webcam performers if you use the adult webmaster empire program. You can also setup free sex chat rooms on your website and serve ads around that which gives you a double bonus.
Perhaps the easiest way to make money with your own website, or as a webmaster, is to promote some of the popular sex chat affiliate portals. We make good money from a few of these, and a few others convert niche traffic. I suggest you give the top 3 your most attention and the prime placement on your websites. If you have niche pages or traffic you may try some of the smaller adult affiliate programs for the adult chat as well.
Great adult webmaster affiliate programs with sex chat:
Adult Webmaster Empire – the affiliate program for the uber popular Live Jasmin Sex Cam Network

Read more about the AWE / Live Jasmine cams affiliate program invite here.
Video Secrets or VSCAsh aka Flirt4free webmasters program- the affiliate program for the popular FLirt4Free cam network, Flirt4free guys, hustler Live, spice live, gender bender cams and homegrown cams live.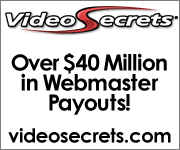 We make more money with Video Secrets affiliate program than any other cam affiliate that we promote. Flirt4Free: Live Webcam Affiliate Program Sure we give them a lot of good placement, but actually, we give more ad space to LiveJasmin. The thing is, VS cash has very strict rules for performers, and are fairly picky when it comes to hiring on cam performers. What this translates to is better quality sales and more retention than you get with programs that do not have tight standards. There are many great promo tools now available with this program, including white label, and they pay on time. I highly recommend that webmasters give this program top billing, and give it time to rake in the recurring sales.
As of 2016 our sales have gone down considerably with the flirt4free program. They made some changes with how they long they keep your referred clients and how long or some shit. We got a little email about it – they made more changes. We emailed with some questions to clarify – and never heard back about that issue.
I asked Brad some questions at one of the Internext shows, and he appeared to be semi- hostile about webmasters wanting to brand their way, and was not very approachable after the panel. I can't say these guys have turned evil, they are still decent, but they have certainly changed some things that favor their own brand and taking money from return customers in ways that do not benefit the webmasters in ways that they did not do before. It's shit like this that makes you want to run your cam service and forget about promoting companies that seem to be more concerned about their own brand and overhead than taking care of those who are promoting them.
LCN Cash – the Live Cam Network – These guys have some kickass chat software – hi-def feeds and many networks of cam models within the network. It's cool, and one of the newer affiliate that I am working with. Definitely worth checking out! Easy CCbill affiliate signup and lots of tools to promote the hi-def sex chat including blogging feeds and more.
Cams.com is a decent affiliate program – part of the penthouse invested, adult friend finder conglomeration thing, whatever it is called. I don't make a lot of money with this program for some reason, but it has converted a few people last year. their "broker ads" suck, so I'm not posting any here.
The Livebucks affiliate program< for webmasters looking to earn money from sex chat - it's a decent program, a good site, and we convert sales there about every other day. The livebucks program stopped paying out some time ago – and it looks like it may have been sold off to gammae, but it looks like maybe they are just kind of rebrandning the streamate thing as their thing – and that doesn't usually work out well. Especially considering the issues we have had with stremate / fci or whatever – we do not recommend this program any longer, and will be pulling all ads and links as we get back through our network.
I haven't been impressed with the member retention or recurring sales, but it earns a few bucks every other day and that rocks. These people promote the sites private feeds, vip cams, real live guys, love sexxxy, live latina, camsters, and camsters guys. They have good animated banners and a great mix of sizes which I appreciate. Their site looks great and is an easy sell. I just wish I got more re-sales with them. These people have been in business a while – I remember them from webmaster meetings years ago. If a site doesn't resell well, I wonder if they are shaving, but who knows.

Webcam cash is a decent program – they have had a lot of different ways to promote the site, rss feeds, cobranding, lots of banners in various colors, etc. I like the promotional tools they have for webmasters. Looks like these guys sold out at some point. Meh.

WEG Cash offers a cam site – VIP Stream– they also have a gay guys cam site to promote. We used to, at one time convert traffic well with their program (1in65 as of back in the day). Not a lot of promo materials for their cam site, but you can find a cam girl embed code under advertising tools which is a separate button from the linking tools button, a little annoying but worth the looking around. They promote other sites that webmasters may make money from, so I guess the lack of banners for their cam site is understandable, although still annoying. Wegcash's VIPStream was converted to a Mtree / MoneyTree / flyingcroc kind of white label thing. A while back I THINK I remember getting an email from wegcash saying that they had to stop paying all affiliates – and they basically got out of the business, maybe I am wrong on this, maybe it was a different affiliate program, but none the less – the old VIP Stream from WEGCash is gone, all of my stats show all zeros from them for the past year or more, and the programs that they are running on the VIPStream.com site is just a whitelabel iframe like thing from a different company – so screw them and their middleman like bullshit that has failed and just go direct to the MoneyTree / Streamate / Flyring Croc Source themselves.
Streamate / Mtree / MoneyTree / Flying Croc or Flying Crocodile programs.
these people have a decent set of girls and sites running. With so many sites pushing the white label and Iframed versioned of their programs, that brings a good amount of traffic and customers to girls, and so they have a good selection of girls. We decided to get back into this program to try it out again a few months back, and it does pretty okay. The white label thing takes a bit to setup and there are some hoops to jump through, but at least they are sending checks it seems every couple of weeks, and we have good stats.
Warning! These guys from mtree / flying croc / fci / streamate – whatever the hell they are being called these days – they fucked us over. We got some pathetic back pedaling from these scamming assholes. We still promote a couple of our co-branded white labels since we have so many sites and so little time to change up things. However I strongly suggest you do not make any kind of long term business plans with these people. They stole money and time from us, and that will not be forgiven.
I'd like to see more promotional options within the money tree and streamate areas, but overall I am happy with the white label setup and comfortable promoting this program. I think you will like it too, even without the white labeling you could just setup links to the various cam sites and with the selection of girls they have you should convert some traffic into dollars so give them a whirl – get started with the moneytree / mtree / streamate / vipstream system today.

WebCamClub is another sex chat portal that can add a few bucks to your monthly checks. I like the banners and graphics that they offer for webmasters. It is one of the sites from dating gold. I don't turn a lot of cash with this program, but it is promotable in a slightly less pornographic way, which is nice on the eyes are some web surfers, and may blend well with some sites that are NSFW but not quite hard core. It's a softer sell that I get a decent amount of free signups with and a few conversions. This is a good program to convert international or foreign sex chat traffic for some reason. I get more money from these peeps with the foreign (non U.S.) signups than anything else. I guess their site auto-redirects other languages or something.
Pussycash handles the IMLive video sex chat portal. I have mixed feelings about this portal. I made some money with it for a little while, and took advantage of one of their outrageous offers for a while that paid like $100 per new sign up, or maybe it was $150 or $75 per member. But then I decided that a rev share was a better way to go in the long run (more on that debacle in my tips to webmasters below). I have noticed lately that my rev share signups have not been returning. Does this mean that they are shaving (being dishonest about return visitors to screw us out of money), who knows, perhaps it's just coincidence, but other portals I use get a good amount of return customers and this one has not been performing as well in that area the past few months. Maybe the quality of the cam girls are affecting this, or maybe it's an intentional software billing bug, or maybe shit just happens and everything is honest, maybe it's the economy. I do know that I promote my top two affiliates more than any other, because the returning customers month after month make me more money with those programs.

The pussycash admin for webmasters is ALWAYS slow. It pisses me off that it takes so much time to check my stats and get promo codes there. It may be something worth trying to earn a quick buck when they do their big money per signup deal, but in the long run, I'm not impressed, and I find that other programs earn me more money with returning customers in a revshare situation. I also HATE the fact that they say shit in their terms like "you can't change any part of this link code" – that is bullshit. I should be able to link anyway I want to them. It gives their portal an unfair advantage against webmasters when the code is set the way have it by default, and it hurts our pages when we don't insert rel=nofollow in our codes. They do have a lot of girls, but they discount the price so much, even when I convert a surfer into a sale, it often only amounts to a one-time $5 or so lately.
A few notes to the aspiring sex chat webmaster
Sex chat pimping isn't easy, whether you are sending surfers to an affiliate portal like those listed above, or you try to start your own sex chat business, it's like running a strip club, hard to get started, easier after you are established. To be successful in either of these businesses you have to deal with a lot of crazy people and create relationships of trust and hard work.
Some people may consider my opinion biased, and I encourage you to read my disclosure statement about this. However biased it may or not be, I constantly check my stats, see where traffic I am sending is coming from, and check the returning customers. I have two affiliates that rebill returning customers month after month, and I trust these partners to keep my income flowing. The others, I have my constant doubts and other issues with. If your mileage has varied with these or any other adult webmaster affiliate programs that promote sex chat, let me know I am always curious to learn from others.
Also, realize that things change in this industry overnight. As of this writing, I think everything above is true. Things can change by the time you read this, do your own research. People get hired and fired at companies, one company could buy another, some rogue pissed off programmer could leave a company and run malicious code to fuck over everyone involved including you the affiliate webmaster. So check your stats often and be good to those that are good to you. I'm sure I'll rant more on these issues later, perhaps in another blog post or another weblog.
Oh yeah, there are a few other sex chat portals out there, either I haven't tried them, or I haven't made enough money with them to mention them. I know I haven't tried them all, if you have a portal that works well for you and I have not mentioned it, let me know in the comments below so I can give is a whirl and check it out.